These tiny flashlights are so popular that you often get them free with purchase or even as a giveaway. So chances are, you have one in your junk drawer somewhere and you may have been tempted to clip it to your keychain. While there is nothing wrong with doing so, these lower powered lights are not good for much beyond navigating a dark hallway. They have no throw (i.e. range) and usually only provide a single level of brightness.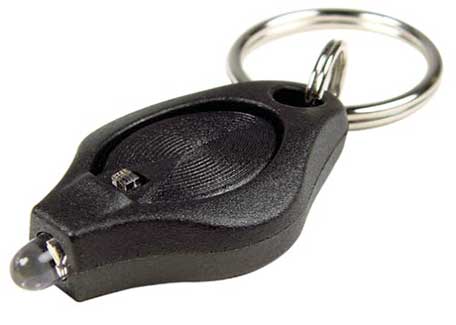 Plus, if you are like I am, you hate adding things to your keyring unless they provide amazing value. But what if there was something you could add to your keys that would also allow you to reduce your EDC items in your pocket? Now you're talking! If you step up in price, you can actually get a keychain flashlight that for most everyday tasks offers the power and versatility to actually replace your standard size EDC flashlight. Now that would be worth adding some bulk to the keyring.
The following lights are honest to goodness useful flashlights that are still small enough to warrant consideration as worthy of a spot on your keyring.
This un-flashlight shaped flashlight actually looks just like a key fob and is about the same size. It features a rechargeable li-ion battery and blasts out either 360 or 700 lumens of brightness depending on the model. The TIP 360 uses a single CREE XP-G2 S3 LED while the TIP 700 uses dual P8 OSRAM LEDS.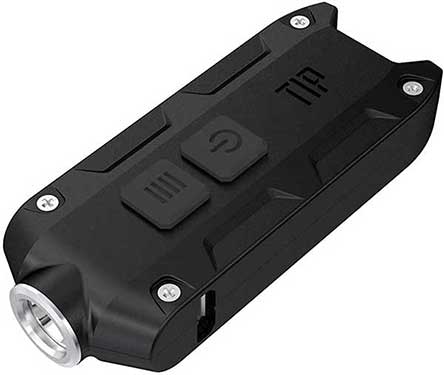 Both models use a soft touch button which allows you to select from the turbo mode to the 150 lumens high, 35 lumen mid, and 1 lumen low mode. The TIP 360 and TIP 700 also include a smart mode that automatically shuts off the light after 30 seconds so you never have to worry about leaving it on by accident.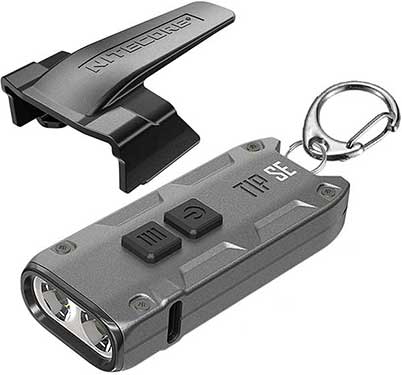 Both TIP models are 2.39" by .96" by .54" and weigh only .83 ounces. The back of the light sports a convenient key ring attachment bar. For $30, the Nitecore TIP makes a perfect keychain light with the power to stand in for your regular sized EDC flashlight.
| | Nitecore TIP 360 or TIP 700 |
| --- | --- |
| Lumens | 360 or 700 |
| Length | 2.39" |
| Width | .96" |
| Thickness | .54" |
| Weight | .83 oz |
| Battery | Rechargeable 500mAh Li-ion |
| Price | $30 |
| Buy TIP 360 | See the best prices |
| Buy TIP 700 | See the best prices |
For a more traditional shaped cylindrical light, the Nitecore TIKI offers a lot of power in a small .57" diameter by 2.16" in length package. Using a high output LED, the Nitecore Tiki puts out 300 lumen with a double tap of the switch. There are also 4 additional lower intensity settings. A triple tap will call up the auxiliary lights that includes a red (great for map reading) and blue light.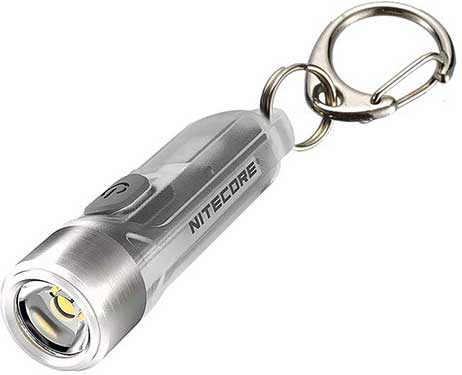 The Nitecore Tiki is rechargeable using a standard USB cable. Weighing just .42 ounces means you'll hardly notice it at the end of your keyring. For $20, this is a hard light to beat.
| | Nitecore TIKI |
| --- | --- |
| Lumens | 300 |
| Length | 2.16" |
| Diameter | .57" |
| Weight | .42 oz |
| Battery | Rechargeable 130mAh Li-ion |
| Price | $20 |
| Buy | See the best prices |
Olight makes great flashlights and while not as bright as the Nitecore, the i1R 2 EOS still delivers a respectable 150 lumens from an ultra small form factor. At just .58" in diameter, the i1R 2 EOS is only 1.73" in length and weighs .46 ounces. It uses a Chip Scale Packaging LED and by twisting the head you get two modes. The first is a 5 lumen low and the second the 150 lumen high. This twist interface is great for a keychain light since it is hard to accidentally activate in your pocket or purse.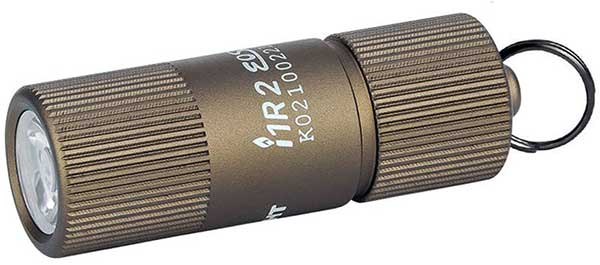 The Olight i1R 2 EOS is rechargeable and includes a micro usb charging cable. The tail features a split ring to make connecting it to your keys effortless.
At $15 you can afford to get one for every set of keys you own. There is no excuse to ever be without a real flashlight again.
| | Olight i1R 2 |
| --- | --- |
| Lumens | 150 |
| Length | 1.73" |
| Diameter | .58" |
| Weight | .46 oz |
| Battery | Rechargeable 70mAh Li-ion |
| Price | $15 |
| Buy | See the best prices |
The RovyVon Aurora A3 Pro is another high quality traditionally shaped key light. It uses a high performance XP-G3 LED to deliver 700 lumens of brightness. The Aurora is .61" in diameter and 2.26" long with a rechargeable battery and integrated keyring. It offers four brightness modes as well as a strobe. The light also has thermo protection to keep the electronics safe.

The unique case body is a nice combination of flat sides in the rear which transitions to the more traditional round bezel.
At $35, the Aurora is a great keychain light that you will probably find yourself using daily like a regular, full-sized flashlight.
| | RovyVon Aurora A3 Pro |
| --- | --- |
| Lumens | 700 |
| Length | 2.26" |
| Diameter | .61" |
| Weight | .71 oz |
| Battery | Rechargeable 330mAh Li-ion |
| Price | $35 |
| Buy | See the best prices |
This is another super small (shorter than an AA battery) light that you can attach to your keys. Using a high performance CA18-3X LED, the Mini 2 will provide a blinding 220 lumens of brightness. By twisting the head you can change the output to a lower 5 lumen navigation or map light.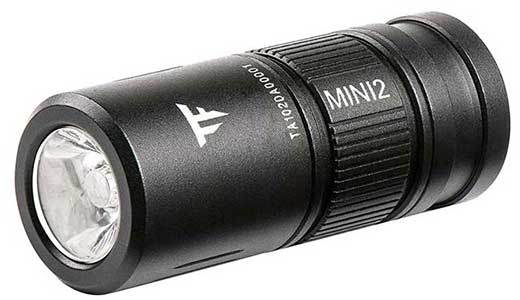 The Mini 2 comes in at .54" in diameter and 1.53" in length. It weighs just .41 ounces and comes with an integrated split ring connection. It's hard to appreciate just how small these lights are until you see them next to a key fob. The Mini 2 is completely dwarfed by even the smallest of key fobs!
The Mini 2 uses a rechargeable battery which connects to a micro USB cable. At a price of $16 this is an excellent light to include on every set of keys.
| | TrustFire MINI 2 |
| --- | --- |
| Lumens | 220 |
| Length | 1.53" |
| Diameter | .54" |
| Weight | .41 oz |
| Battery | Rechargeable 100mAh Li-ion |
| Price | $16 |
| Buy | See the best prices |
Are you old enough to remember the Maglight Solitaire? This light is about the same size but offers a heck of a lot more output. Also, this light is not rechargeable and uses a single AAA battery. Some people like the option of using a battery since you can replace them and instantly be back in business. With a lithium AAA, you don't have to worry about shelf life or leakage.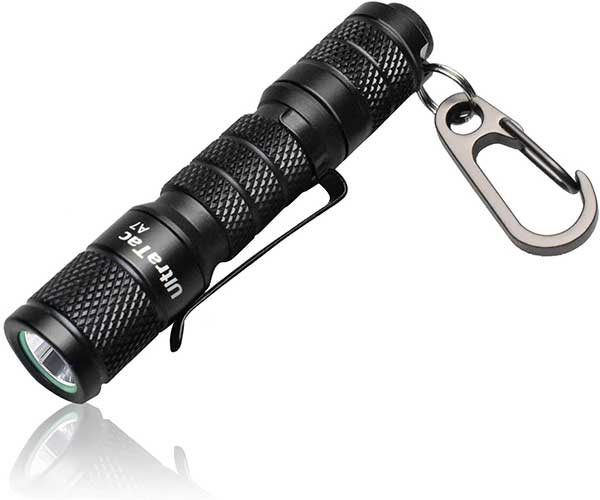 The XP-G2 LED provides a maximum output of 180 lumens. Using the tactical tail switch you can select between high, low, and strobe.
This light is larger than most so might be at the extreme end of what you can comfortably use on your key ring. Actually, this flashlight will probably serve as your key ring due to its size. The Aider A7 comes in at .75" in diameter by 2.95" in length. Most of this area is to accommodate the battery, and the flashlight weighs about .9 ounces with a battery loaded.
For $13 this is a bargain light and if it turns out to be too large for daily key ring duty, you can always use it as a standard, high power AAA flashlight.
| | Aidier A7 |
| --- | --- |
| Lumens | 180 |
| Length | 2.95" |
| Diameter | .75" |
| Weight | .90 oz |
| Battery | AAA |
| Price | $13 |
| Buy | See the best prices |
Conclusion
As you can see, there are a bunch of options that can fit on your keyring and yet provide the power of a traditional flashlight. If this means that I don't need to carry my traditional EDC flashlight all the time, then I'm willing to give up some space on my keyring and never be without a good light.
What do you think? Have you tried any of these powerful key chain lights? Did we miss some good alternatives? Leave your comments below.