If there is a "Holy Grail" in the world of knives, it would be called "Sebenza." When I first got into knives, the folding knife everyone lusted after was the Chris Reeve designed Sebenza. Even today, most enthusiasts still consider the Sebenza the knife by which all others are judged.
Why is the Sebenza so revered? For many, it represents the perfect combination of size, strength, and beauty. Using premium materials such as titanium for the frame and S35VN for the blade, it is expertly finished in Boise, Idaho, U.S. of A. Chris Reeve invented the frame lock system that the Sebenza uses to ensure a bank-vault lock-up that makes an audible and satisfying "click." Taken together, all of these features make the Sebenza feel like a knife that will last forever and one that can be passed down from generation to generation.

So why not just get a Sebenza? For me, it was the price. The 2.9" blade model is $275 while the 3.6" blade Sebenza will set you back a cool $475. I also had a hard time thinking about spending that much on a pocket tool that I would abuse and scuff and possibly lose at some point. I once forgot to take my well-used $17 Ka-Bar Dozier out of my backpack when going through TSA at the airport. When the agent found it, I just told him to keep it. I didn't even give it a second thought. Imagine if that had been the $450 Sebenza!
So what can we find that has all of the great features of the Sebenza without breaking the bank? Fortunately, there are a ton of great options – all of which feature the following:
Titanium frame for both strength and light weightness. This is an EDC knife, and no one wants to carry a brick in their pocket.
Reeve Integral Lock or what we know today as a frame lock. This lock adds few additonal parts that could fail.
Premium blade steel. The Sebenza uses CPM-S35VN and CPS-S45VN which was designed in collaboration with Chris Reeve himself.
The Sebenza comes in two sizes which are simply called the "S" and the "L."
| | Sebenza 31 "S" | Sebenza 31 "L" |
| --- | --- | --- |
| Overall length | 6.98" | 8.4" |
| Handle thickness | .4" | .46" |
| Blade length | 2.99" | 3.61" |
| Blade thickness | .12" | .12" |
| Blade steel | CPM S35VN | CPM S35VN |
| Weight | 3.0 oz. | 4.7 oz. |
| Made in | USA | USA |
| Price | $275 | $450 |
| Buy | See the best price | See the best price |
Let's start with some good old made in the USA options.
Zero Tolerance
Zero Tolerance was founded in Oregon in 2006 with the goal of building American made knives for the military and law enforcement. From the beginning, these knives were designed for hard use which necessitated the use of premium materials. In 2011, Zero Tolerance won the BLADE Show's Overall Knife of the Year award. It's no wonder that customers nickname their Zero Tolerance knives as "beasts."
Zero Tolerance 0562TI Hinderer
Designer Rick Hinderer began his career in the 1980s making knives based on his experience as a fire fighter and EMT. The 0562TI shows this pedigree and features Hinderer's special "slicer" grind that lets this blade effortlessly pierce or cut through even the toughest materials. While most EMT knives are made with plastic and steel, the 0562TI uses premium stainless steel for its 3.5" blade and solid titanium for the handle which slashes the weight to just 5.45 ounces. This is only half an ounce heavier than the similarly sized Sebenza. But with the Hinderer, you get a thicker blade at .16" versus .12" for the Sebenza. The handle provides a solid frame that rides comfortably in the pocket. The unique pocket clip is reversible and attaches to inside of the handle rather than outside which enables extra-deep carry – the knife actually disappears in your pocket.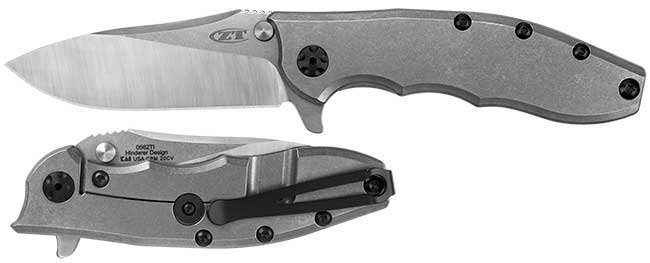 The knife opens with a flipper or thumb stud and rides on the ultra-smooth KVT ball-bearing opening system. To ensure a secure lock, the titanium frame lock includes a hardened steel lock bar insert and stabilizer.
The blade is CPM 20CV steel that provides excellent edge retention as well as corrosion resistance. CPM-20CV is Crucible's version of Bohler's popular M390 steel which offers impressive wear resistance and edge retention with the additional benefit of being corrosion resistant due to the added chromium.
This made in the USA knife is a legitimate alternative to the larger Sebenza 31. With a street price of $280, it offers a nice savings and for those who enjoy a light weight, solid as tank knife, the Zero Tolerance 0562TI Hinderer checks all the boxes.
For a smaller knife that compares favorably with the Sebenza 31 "S," the Zero Tolerance Sinkevich 0405 deserves a look. This knife was born from a collaboration with custom knife and toolmaker, Dmitry Sinkevich, who is famous for designing knives with clean lines, sleek looks, and excellent real world ergonomics.

Your hand wraps naturally around the 0405 frame constructed entirely out of stonewashed titanium. The 0450 Sinkevich uses Zero Tolerance's KVT ball-bearing system which allows smooth and lightning fast deployment. The handle contains a frame lock that solidly secures the blade as well as a reversible pocket clip. One highlight of the design are the two emerald-green anodized aluminum tube spacers that offer a distinct touch of personality. I guarantee it will make you smile every time you pick up your Sinkevich.
The 3.25" high-performance blade is made from CPM S35VN stainless steel which is known for toughness and corrosion resistance, This steel was introduced by Crucible and Chris Reeve and is used in all Sebenzas.
The Zero Tolerance 0450 Sinkevich is not assisted open but almost feels that way. Pressing on the small flipper pops the blade out at lightning fast speed. The whole package weighs in at just 2.9 ounces which is a tad less than the Sebenza 31 "S" but also gives you a quarter inch more blade. At a street price of $164, the Sinkevich is a great alternative to either the larger or smaller Sebenza.
| | ZT Hinderer | ZT Sinkevich |
| --- | --- | --- |
| Overall length | 8.25" | 7.375" |
| Handle thickness | .51" | .4" |
| Blade length | 3.5" | 3.25" |
| Blade thickness | .16" | .12" |
| Blade steel | CPM-20CV | CPM-S35VN |
| Weight | 5.45 oz. | 2.9 oz. |
| Made in | USA | USA |
| Price | $280 | $164 |
| Buy | See the best price | See the best price |
LionSTEEL Knives
From the U.S. we head across the Atlantic to LionSTEEL Knives which was founded in 1969 in Maniago, Italy. The company combines classic Italian aesthetics with modern manufacturing. LionSTEEL focuses primarily on hunting knives and folders and has developed a reputation for knives with amazing fit, finish, and overall quality. The knife industry agrees and LionSTEEL won the 2017 BLADE Show Overall Knife of the Year award and the 2018 BLADE Show Manufacturing Quality Award.
T.R.E is an acronym for Three Rapid Exchange and is LionSteel's system for changing how you open your knife. Using the included tools, you can add or remove the thumb stud as well as the flipper. If you remove both, then you are left with a traditional folder that requires both hands to open like a Buck pocket knife. The kit includes all of the tools to remove these features as well as a handy wooden box for storage so you don't lose anything.

The knife frame is made of 6AI4V titanium and is nicely sculpted. It may not be Venus de Milo, but the elegant angles and strategically placed cutaways help to lighten an already super light package. Even the ambidextrous deep carry clip is milled from solid titanium.
The blade is a harpoon shape with angled swedge. It's forged from M390, which is considered one of the new "super steels" from Bohler-Uddeholm. It offers excellent corrosion resistance and very high hardness which provides strong wear resistance. The steel is marketed as "Microclean," which means it can be polished to a true mirror finish. The trade off is that it is moderately difficult to sharpen. However, most would agree that it is a higher grade steel than the CPM S35VN used in the Sebenza.
The blade opens using LionSTEEL's IKBS opening and closing mechanism which makes use of caged bearings. This system gives the T.R.E. an ultra-fast and smooth deployment. The frame lock is positive and includes an over travel stop.
The T.R.E. makes an excellent alternative to the smaller Sebenza 31. It does have a slightly shorter blade but also weighs about a tenth of an ounce less and uses a higher quality blade steel. At a street price of $262, this Italian competitor does not save much but for some offers a more refined look.
Competing with the larger Sebenza is the LionSTEEL TiSpine or TS1. It is described as an EDC folding knife that is made from a single, solid piece of titanium. This unibody construction means that the handle starts as one solid chunk and is then milled out to accept the blade and related hardware. This offers exceptional durability and strength.
In true Italian style, LionSTEEL has milled in a brilliant sun ray pattern on both sides of the frame that give it a nice, positive grip. A truly deep carry pocket clip attaches to the end of the frame which makes the knife all but disappear.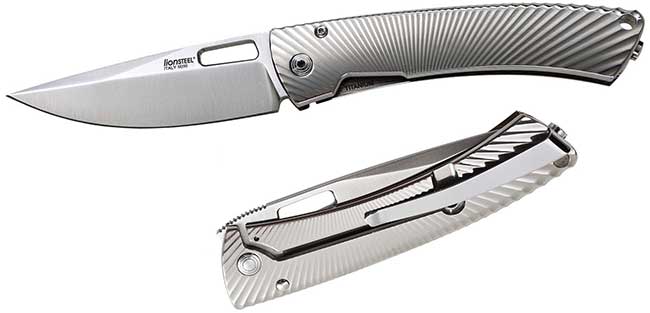 Again the Italians seem obsessed with style and offer the knife in a dazzling array of colors including including grey, bronze and violet for the matte versions and grey, gold and blue for the shiny versions. The shiny versions definitely stand out and could legitimately be called "knife jewelry."
But the blade is all business and forged from M390 sintered steel, which is an "ultra premium" steel manufactured by Bohler-Uddeholm. It offers superior corrosion resistance and hardness and is considered a grade higher than the CPM S35VN steel used in the Sebenza.
The blade is an elegant flat ground that is a cross between a spear point and drop point with a significant swedge. The blade profile is actually quite similar to the Sebenza. It is thick and solid with LionSTEELS' signature crown spine which makes it easy to press down on the back of the blade with your thumb for heavy cutting. There is good jimping on the back of the blade as well as an oval cutout for deployment. The TiSpine uses washers (like the Sebenza) so deployment is a little slower. However, it does open smoothly in a single motion using the thumb hole. Like the Sebenza, it does not have a flipper stud protruding off the back of the blade which would interrupt the lines of the knife.
At a street price of $270, you are realizing a significant savings over the large Sebenza and one might argue that you are also getting an Italian designer knife. After all, beauty is in the eye of the beholder.
| | LionSTEEL T.R.E. | LionSTEEL TS1 |
| --- | --- | --- |
| Overall length | 6.89" | 7.68" |
| Handle thickness | .48" | .41" |
| Blade length | 2.91" | 3.35" |
| Blade thickness | .14" | .14" |
| Blade steel | M390 | M390 |
| Weight | 2.89 oz. | 3.53 oz. |
| Made in | Italy | Italy |
| Price | $262 | $270 |
| Buy | See the best price | See the best price |
Spyderco Knives
Coming back to America, we look at some knives from Golden, Colorado-based Spyderco. This company pioneered many features that are now thought of as inherent to folding knives such as a pocket clip, serrations, and thumb hole. Spyderco knives are also solidly built and have become a standard tool among military and law enforcement. While some models are still made in the United States, Spyderco also ships U.S. manufactured steel to Taiwan for the manufacture of certain models.
The SwayBack was inspired by the English Jack Knives popular in the 19th century. Just looking at the knife, you can tell that it draws inspiration from an earlier period. It's the exact opposite of the low drag, high performance look of the super tactical knives of today. The SwayBack is a Spyderco collaboration with renowned Polish knife maker Marcin Slysz to create a stylish yet highly functional cutting implement.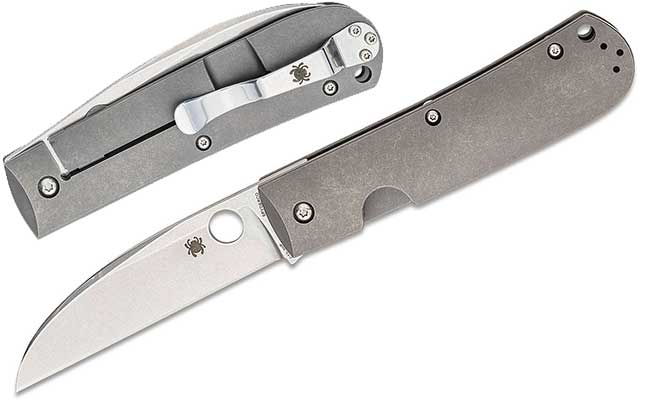 The frame is solid titanium scales with an open back design. The scales are beautifully crowned for comfort and allow for a firm grip. Unlike the compression locks found on most Spydercos, the SwayBack uses a true Reeve Integral Lock (frame lock) with a stainless steel interface. The polished clip with spider logo makes carrying the knife convenient and is reversible.
The SwayBack blade is a hollow-ground Wharncliffe and crafted from premium American forged CTS-XHP Stainless Steel. CTS-XHP is a relatively new knife steel with excellent edge retention and hardness. It has slightly better edge retention than S30V and is more corrosion resistant than the highly rated D2 steel. The tradeoff is that it takes longer to sharpen. The blade sports a stonewashed finish and typical if smaller than normal "Spyderhole" for easy opening. It deploys with a satisfyingly smooth and audible "click."
The SwayBack is universally praised for its beauty and comfort in the hand. With a street price of $273, it offers a savings when compared to the large Sebenza and is also a little bit lighter. But the real selling point of the SwayBack is the style. It rocks a classic 19th Century vibe and is one of the most unique titanium frame lock knives you'll ever see.
The Techno 2 was the first collaboration with renowned Polish custom knife maker Marcin Slysz. It is a simple and robust design that makes for an excellent everyday carry pocket knife. The handle is machined from solid 6Al4V titanium with a stonewashed finish and deep pocket carry wire clip. The scales of the Techno 2 are lined by anodized titanium standoffs that reduce weight and create an easy to clean open-backed construction.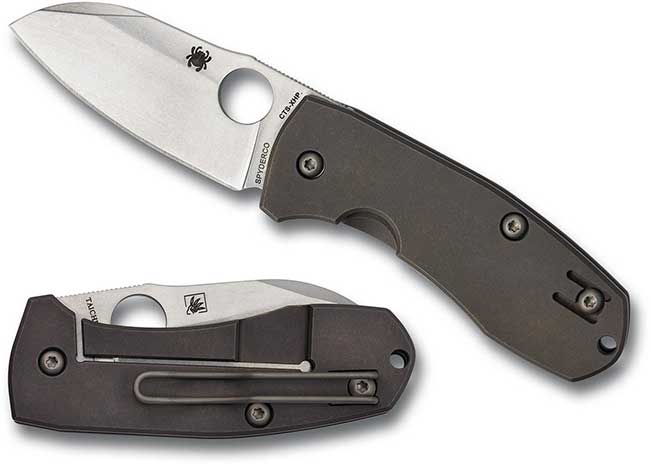 The Techno 2 uses the proven Reeve Integral Lock (RIL) mechanism which locks the blade securely open and prevents accidental closure during use.
The stonewash-finished blade is forged from premium CTS-XHP stainless steel. This is a newer knife steel with excellent edge retention and hardness. It is similar to D3 but with more corrosion resistance. The downside is that it takes longer to sharpen. The blade features a high saber grind that maintains a full-thickness spine. The blade's profile looks like a modified sheepfoot. This profile provides better cutting leverage. Of course, the blade uses the signature Spyderhole which allows for swift one-handed opening.
The Techno 2 is a small knife that is one inch shorter than the small Sebenza and has about half an inch less blade length. In terms of cost, it is $231 so about $45 less than the small Sebenza. So if you are looking for a "mini" Sebenza, then the Spydeco Techno 2 is for you.
| | Spyderco SwayBack | Spyderco Techno 2 |
| --- | --- | --- |
| Overall length | 8.04" | 5.99" |
| Handle thickness | .48" | .5" |
| Blade length | 3.53" | 2.55" |
| Blade thickness | .139" | .13" |
| Blade steel | CTS-XHP | CTS-XHP |
| Weight | 3.9 oz. | 3.4 oz. |
| Made in | Taiwan | Taiwan |
| Price | $273 | $231 |
| Buy | See the best price | See the best price |
Kizer Cutlery
You know we could not do a full review without considering knives from China. However, Kizer Cutlery has blown the top off the idea that China can't produce high-end production knives. Kizer partners with some of the world's best designers to create sophisticated and high quality production knives. Using premium materials and modern machinery, Kizer has become known for offering high quality and great values. These are not cheap knives and often use American made premium CPM-S35N steel.
As Kizer proudly declares on its site, "Not all who wander are lost, but for the ones who are, the Kizer Wanderer offers a tough utilitarian design for all-around use." This was clearly designed not just for EDC but also to be strong enough to be taken out into the bush. This is a great example of Kizer bringing together innovative designer Justin Lundquist and giving him access to modern materials and processes. The result is a knife with clean lines and transitions.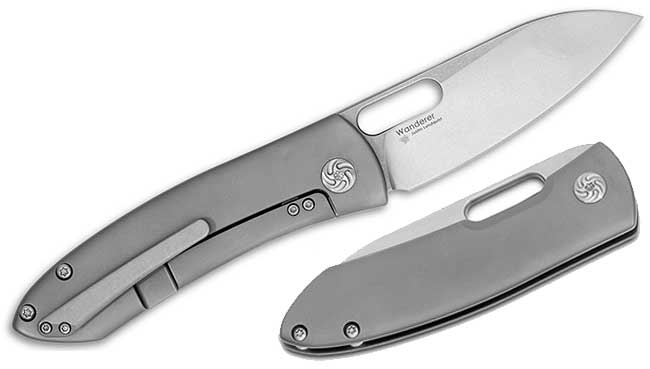 The frame is constructed of titanium with a subtly tapered end. The edges are all rounded, which makes it slide easily in and out of your pocket. The deep carry milled clip blends in nicely and looks like an integral part of the knife instead of an add on.
The blade is CPM-S35N which is the same steel used in the Sebenza. This premium American made steel offers outstanding strength, corrosion resistance, and edge retention. It was created through a collaboration between Sebenza maker Chris Reeves and New York based steel maker Crucible Industries.
The blade comes with a thumb hole for ambidextrous, one-hand opening. Deployment is fast and smooth. Kizer describes the blade shape as a sheepsfoot but it also looks similar to an insingo. This shape results in more blade area for cutting, and many consider this shape to be the best for pure cutting. The blade also sports a solid rounded crown that gives you a comfortable location to place your thumb for heavy cutting.
With a street price of $180, the Wanderer offers a huge value compared to the larger Sebenza 31. The blade is only 1/10" shorter than the Sebenza and comes in at the same weight.
If the Wanderer is too big but you like the Lundquist philosophy, Kizer offers the Lundquist designed Feist. This sub 2" bladed knife offers an elegantly rounded shape. This could easily pass for a gentleman's knife. The blade is CPM-S35VN and weighs only two and a half ounces. A sleek front flipper and ball bearing pivot offers quick blade deployment. The Kizer Feist makes an elegant EDC that works as well opening boxes and cutting packing tape as it does for light duty camping and hiking.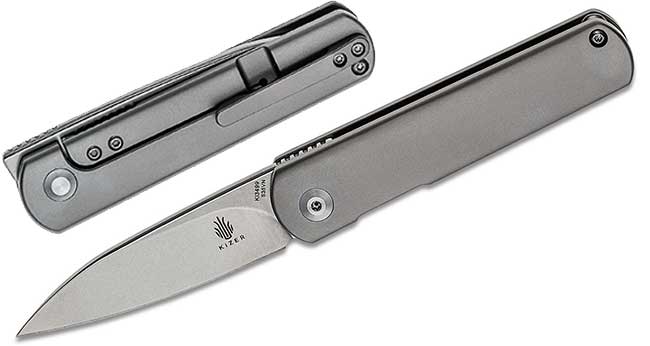 Knife maker Justin Lundquist is a lifelong camper and hunter and drew on this experience when designing this knife. The Feist marries the elegant qualities of a gentleman's knife to create a lightweight folder that is at home at the opera as it is in the woods.
At $168, the Feist offers a substantial savings over the small Sebenza even if it has a slightly shorter blade. But combine the elegance and lighter weight and you might find the Feist makes the better overall EDC knife.
The Kizer T1 offers a simple and robust all-purpose knife that can be used for the toughest of cutting tasks. The T1 comes from a collaboration with German knife maker Ulrich Hennicke who is a sword-smith known for his craftsmanship and focus on the "harmony" between the blade and handle.

This titanium framed knife is easy to carry and expertly contoured. It features a titanium back spacer with an integral lanyard loop perfect for retention. The knife carries flat with a deep pocket carry clip.
The blade sports ambidextrous double thumb studs for a silky smooth deployment. The smooth action is mostly due to the bearing system. The locking mechanism is solid and it makes that satisfying "thunk" when flipped open. Many compare the Task 1 to the smoothness of such legendary folding knives as the Spyderco Slyze Bowie.
The blade steel is CPM-S35VN, which is the same as used in the Sebenza and even sports a similar profile. At a street price of $175, the Task 1 compares favorably to either the larger or small Sebenza but with a faster deployment system.
The final knife from Kizer is the Gemini. This is a collaboration with designer Ray Laconico who created a sleek and thin folder that is reminiscent of his custom Jasmine folder. Ray Laconico is an American knife maker, based in California, and he focuses on handcrafted custom tactical folding knives. Ray's creations are known for their  functional elegance, attention to detail, and use of exotic materials.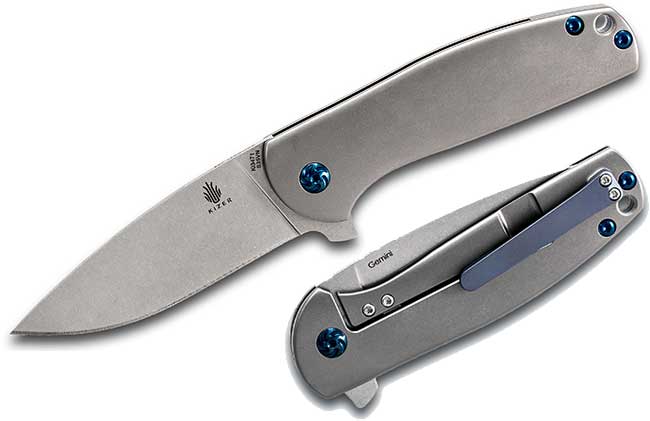 The Gemini is a quality production knife. It includes a bead blasted titanium handle with titanium back spacer. The deep carry milled pocket clip is positive and secure.
The action of the full-flat ground CPM-S35VN steel blade is smooth due to the ceramic ball-bearing driven pivot. A flipper tab makes the Genini snap open like an assisted opener.
At a street price of $179 the Gemini offers a tremendous value in a package that can be easily carried every day. Given the prices of all of the Kizer knives, you can surely find one that will meet all of your "Sebenza" needs.
| | Kizer Wanderer | Kizer Feist | Kizer Task 1 | Kizer Gemini |
| --- | --- | --- | --- | --- |
| Overall length | 8" | 6.5" | 7.5" | 7.25" |
| Handle thickness | .45" | .44" | .49" | .44" |
| Blade length | 3.5" | 2.875" | 3.25" | 3.125" |
| Blade thickness | .14" | .12" | .12" | .118" |
| Blade steel | CPM-S35VN | CPM-S35VN | CPM-S35VN | CPM-S35VN |
| Weight | 4.76 oz. | 2.59 oz. | 4.39 oz. | 3.6 oz. |
| Made in | China | China | China | China |
| Price | $180 | $168 | $175 | $170 |
| Buy | See the best price | See the best price | See the best price | See the best price |
The Boker Knife Manufactory
Boker began in the 1830s as a maker of sabers and swords for the German military in Solingen, Germany. Today Boker has grown into a global brand and one of the largest manufacturers of sports and professional use knives.
The exceptionally slim and elegant Boker Plus Gent-X is the definition of a gentleman's knife. But don't let its highfalutin style fool you. At its core, the Gent-X is a work knife armed with a diamond checked titanium handle. The rear of the frame sports an orange peel finish that not only looks good but also adds much needed traction to the notoriously slippery titanium. The matching milled titanium pocket clip allows for deep pocket carry.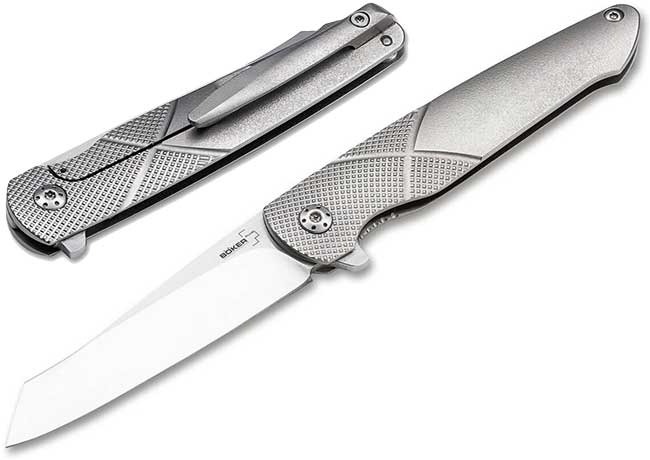 The 2.875 inch blade is constructed of 440C stainless steel with a Wharncliffe (similar to a sheepsfoot) with characteristic bump. The steel is good but not of the premium variety. However, if you like a lot of carbon (and many home sharpeners do) then this is certainly not a bad steel.
The flipper makes deployment quick and easy. The ball bearings ensure a lightning fast opening. Best of all, the entire knife weighs just an ounce and a half. Many owners say that they love how this knife carries small but offers a lot of useable blade.
At a street price of $124, the Gent-X offers a great alternative to the smaller Sebenza. If you plan on carrying a knife every day in a variety of situations, the Gent-X deserves your serious consideration.
| | Boker Gent-X |
| --- | --- |
| Overall length | 6.625" |
| Handle thickness | .31" |
| Blade length | 2.875" |
| Blade thickness | .09" |
| Blade steel | 440C |
| Weight | 1.52 oz. |
| Made in | China |
| Price | $124 |
| Buy | See the best price |
Now for an alternative from a country known for its knife work. Katsu is a new company based in Japan that aims to transform the traditional Higonokami (think the Japanese version of the Buck 110 pocket knife) and fully modernize it. It's the ideal blend of East and West.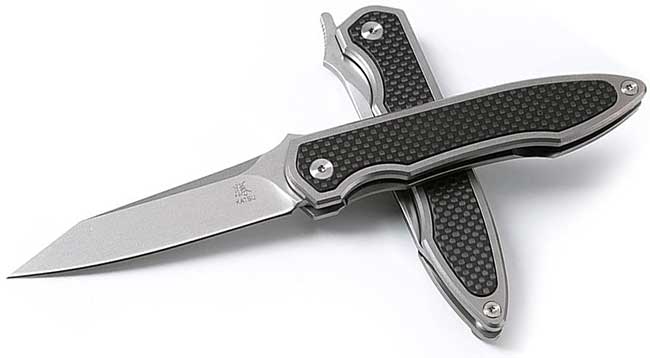 The Katsu Camping Pocket Folding Knife uses titanium scales with inlaid carbon fiber for a non-slip grip. The handle has a traditionally western shape with a milled deep carry pocket clip. The knife uses a strong and positive frame lock.
The long 3.9 inch blade comes with a stone washed finish and cleaver razor blade shape. It is forged from VG-10, which is a high end steel common in Japan. It is relatively hard and can be sharpened to a scary edge – like a samurai sword. It's no wonder Katsu selected this as their steel. It comes in both a modified drop-point and razor blade tip.
The blade sports a Japanese style thumb notch which deploys the blade over a modern ball bearing system. This allows one-handed opening and makes deployment extremely fast and smooth. The knife also comes with a leather sheath.
Many words have been used to describe this knife including a "work of art," "eye catching," "sophisticated," and even "sexy." At a street price of $99, the Katsu is larger than the Sebenza and represents a very unique entry into the field of quality EDC knives.
| | Katsu Camping Pocket Folder |
| --- | --- |
| Overall length | 9" |
| Handle thickness | - |
| Blade length | 3.9" |
| Blade thickness | .157" |
| Blade steel | VG-10 |
| Weight | 5.11 oz. |
| Made in | Japan |
| Price | $99 |
| Buy | See the best price |
This generic Chinese made knife might be easy to write off as another cheap knock off. However, one look at the specs and then the price might change your mind. Let's start with the high-performance AUS-10 stainless steel blade. Produced by Aichi Steel in Japan, AUS-10 offers high-carbon content and is by far the strongest steel within the AUS-series.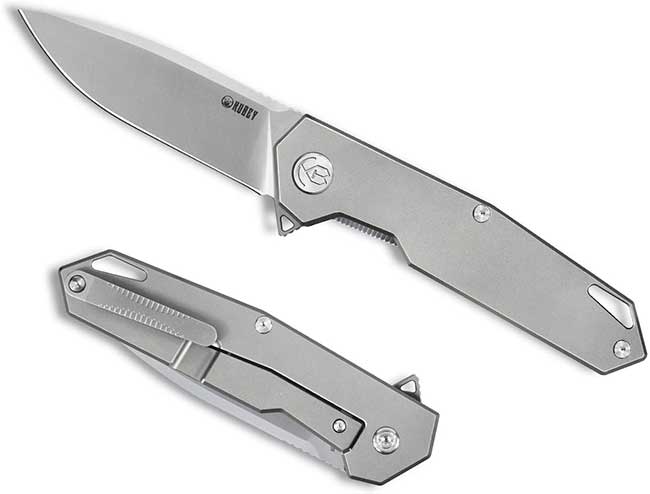 The 3.7 inch drop point blade is mated to a CNC titanium handle that offers excellent strength. A frame lock ensures that the blade stays securely open. To deploy, you just need to push the flipper. This activates the blade, which smoothly opens on ceramic ball bearings. As one reviewer put it, if the Kubey KU046 had a brand name stamped on the side, it would also have "an extra zero" in its price tag.
| | Kubey KU046 |
| --- | --- |
| Overall length | 8.27" |
| Handle thickness | - |
| Blade length | 3.74" |
| Blade thickness | .122" |
| Blade steel | AUS-10 |
| Weight | 4.48 oz. |
| Made in | China |
| Price | $70 |
| Buy | See the best price |
So this last choice is a totally biased pick and breaks most of the rules that we set out in the beginning of this post. The Leek is not made of titanium, and it uses a spring assisted action to open. The pocket clip also does not allow the deepest of carry. So why do I mention it? Because in my opinion for less than $50 you are getting a knife that gives the Sebenza a run for the money. And it's made in the U.S.A.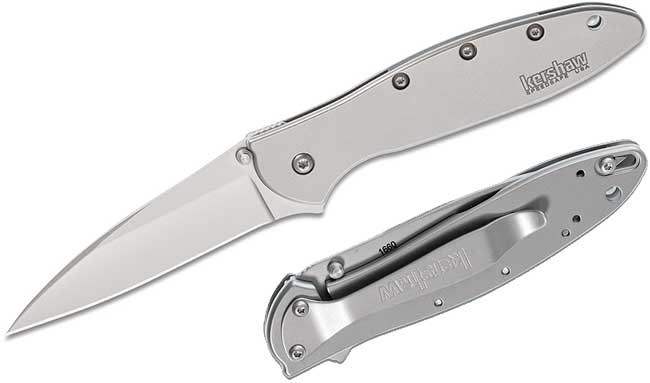 The Kershaw Leek was designed by hall of fame designer Ken Onion from Hawaii. The blade is razor sharp and made of Sandvik 14C28N steel from Sweden. This is a high-performance steel with excellent corrosion resistance and hardness. The modified 3 inch drop-point blade is both slim and well designed for slicing.
The blade is deployed using the SpeedSafe Assisted mechanism invented by Ken Onion. Pressing the thumb stud or flipper will instantly spring the Leek's blade out of the frame with a satisfying "thwack." The frame is stainless steel enhanced with chromium to help it withstand rusting and provide corrosion resistance. The shape fits easily in the pocket as well as in the hand.
For a street price of $50 for the basic model, it is hard to beat. You could buy a lot of American made Leeks for the cost of one Sebenza.
| | Kershaw Leek |
| --- | --- |
| Overall length | 7" |
| Handle thickness | .35" |
| Blade length | 3" |
| Blade thickness | .09" |
| Blade steel | 14C28N |
| Weight | 3 oz. |
| Made in | USA |
| Price | $50 |
| Buy | See the best prices |
Conclusion
So there you have it. Some amazing alternatives to the iconic Sebenza. Of course, if you can't live without owning a Sebenza, then the solution would be to get that Sebenza and one of the above options for when you don't want to risk losing a $450 pocket knife.
What do you think? Have you used any of the knives suggested? Do you have some suggestions for a better alternative? Leave your comments below.