When you can say that Oprah herself wears track pants like these, you know that they're something special. Tapered in the hips for a silhouetted fit, with a flare on the bottom for design, and with an elastic waistband for comfort, it's no wonder that the Big O wears Tory Sport Track Flare Pants. But about $260 for pants? Let's look at some more reasonable alternatives.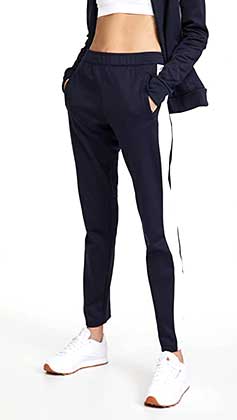 Dokotoo Cotton Jogger Pants: 29 Styles Including Camo
The words "sweatpants" and "stylish" usually don't go together. But the Dokotoo Cotton Jogger Pants are the best combination: comfort and a number of (shall I say stylish?) options to choose among. With 29 fabric choices, you'll find the one that most speaks to you. For me, it's the camo green. In addition, the design is more flattering than your usual sweatpants because of the tapered ankle.

Nike Vintage Capri Sweatpants: Shorter and Stylish
Just the detail of being a little shorter than expected makes the Nike Sportswear Vintage Capri Sweatpants stand out. I like that the sweatpants come not only in black but also in versatile carbon and neutral gray. At less than $40, these sweatpants are a decent deal and give a little style to the standard sweatpant. Buyers describe them as "soft and comfortable."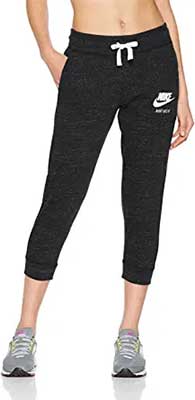 Juicy Couture Velour Zuma Jogger Pants: Slimmer Fit
The Juicy Couture Velour Zuma Jogger Pants are soft and comfy but give a little more fashion to your look because of their slimmer fit and tapered ankle. The look is definitely casual but the velour fabric adds a little luxe. As one reviewer noted, they are "almost dressy."

Tie Dye Sweatpant: Getting Attention
The Drop Women's Fleece Sweatpants are guaranteed to garner compliments because they stand out more than the usual black or gray sweatpants. I think the pants are just colorful enough to stand out but subtle enough to not be too loud. Multiple reviewers say the pants are comfortable and that they are asked where they purchased them from.